(Part- to Full-time) – Las Vegas Location
WE'RE ACTIVELY HIRING FOR THIS POSITION as of 10/06/20. Please send resume or work experience to David Peterson @ david@theduelingaxes.com.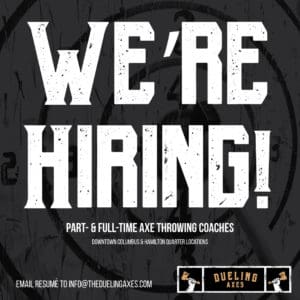 We're looking for responsible, confident, energetic and reliable individuals to help others in your city experience something completely different – urban axe throwing. We are hiring coaches for our Las Vegas location inside AREA15. You'll be instructing groups of up to 12 people and teaching them how to safely and effectively throw an axe. You will also be responsible for supervising the throwing lane area, keeping customers safe and encouraging a fun atmosphere. Light server responsibilities will be required as well. You will be expected to keep an upbeat attitude and presence and actively be part of the Dueling Axes experience. (Full training provided)
Run events for up to 12 players per group, including safety briefings, axe throwing instruction, and general retail.
Ensure guests have a fun, safe experience and have constant awareness of health and safety.
Supervise gameplay, including being available to answer questions and instruct, uphold safety rules and regulations, act as referee when needed, interacting with the groups and generally ensuring everyone is having an amazing time.
Take drink orders, communicate with bartender for order placement, serve drinks within assigned area.
Safe use of basic power tools to maintain and replace targets – Cordless drill.
Prepare venue and lanes for reservations including keeping the space clean, replacing targets and checking axes.
Ensure that all company procedures and safety policies are followed at all times.
You must have excellent presentation and be confident coordinating groups of people.
Working hours – 10-40 hours a week. Working hours are flexible and dependent on when reservations are made. Most reservations will be on weekends and evenings, with specialty group events taking place during normal business hours.
Requirements:
Will hire for attitude and train for skill
Previous service industry or bartending experience a plus
Previous experience of axe throwing is encouraged but not required

If no previous experience, must have a keen interest to learn

Available to work evenings and weekends
Be over the age of 18 and eligible to work in the United States
Confident and outgoing personality
Health and safety conscious
Reliable, self-motivated and responsible
Have reliable means of transportation
Up to date first aid certification a plus (must be willing to obtain)
Send resume or work experience to David Peterson @ david@theduelingaxes.com