Axe Throwing Gift Cards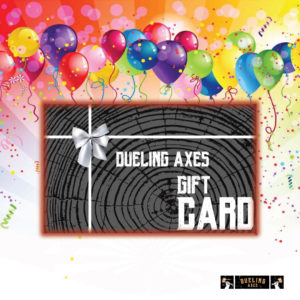 Looking for the perfect gift? Stop looking, because you have found it. Give the gift of axe throwing and be the hero of any occasion. Prefect for birthdays, anniversaries, stocking stuffers and more.
How it works
Our gift cards are completely digital, so you will receive an email with the e-gift card link after your purchase. They are also good at any of our locations. To buy your axe throwing gift card, click the Buy Gift Card Now button above or below, which will take you to our online purchasing center.
Here are the steps:
Select the number of gift cards you want.
Choose the dollar value you would like to purchase on the gift card(s) and enter the email address of where the e-gift card should be sent.
Fill in the payment information and push the "Submit and Pay" button.
That's it! You'll receive a confirmation email right away with a link to your digital e-gift card. Your gift card can be used on our website, over the phone, or in person for axe throwing reservations and merchandise. If giving as a present, print your confirmation page and forward the e-gift card link to the intended recipient. Cheers!