Axe Throwing Lounge Coming Soon to Downtown Columbus
ORIGINALLY POSTED BY COLUMBUS UNDERGROUND on April 27, 2018 – see the original axe throwing lounge article here.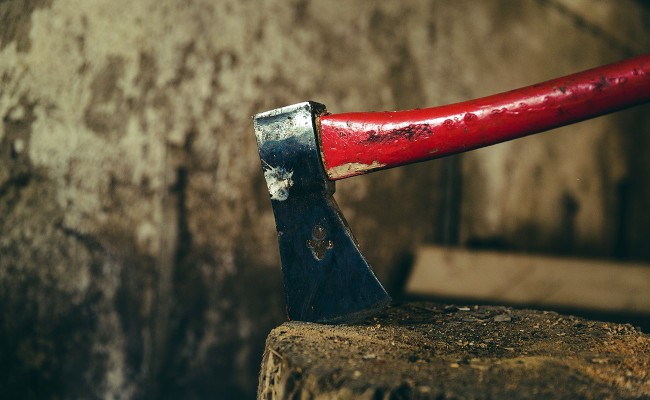 Axe throwing lounge Dueling Axes is set for a late spring opening in Downtown Columbus, at the corner of South Fourth Street and Noble Street.
Co-owners Jess Hellmich and Paul Sherry have known each other several years and worked together at a roofing company in Westerville. Hellmich ran its marketing department while Paul worked on the operations side, before working together to help start a distribution company in 2015. With a drive to open their own business, Hellmich and Sherry came across the concept of axe thowing. It's a nice change of pace from the world of construction, Hellmich says.
"It's really fun, not only to do, but to be part of the operation, of the planning and the running of the company," Hellmich says. "It's fun and it's simple. It's pretty straightforward."
Anyone hesitant to try axe throwing should know it's much less intimidating than one might think, Hellmich says. There haven't been any reports of major injuries in the sport, and there will be trained professionals on site for safety briefings and coaching.
"The experience of just throwing the hatchet down the lane is extremely fun and satisfying," Hellmich says. "So we encourage everyone to try. There's something about it that just draws you in."
"And by the way, you certainly don't have to be a lumberjack to have fun doing the activity," Sherry says. "No big beards are required, no flannel shirts…As long as you have the strength to get the axe to stick to the target, it's fun for just about everybody."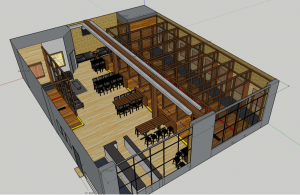 Dueling Axes will have a full-service bar, and will allow outside food. The focus will be on the experience of axe throwing, Sherry says.
"The great thing about being [Downtown] is that we have awesome bars, awesome restaurants, really great neighbors here," says Sherry. "This is really part of someone's evening. We're hoping that people will come here, have some fun, then go out to dinner, then go out to the bars. Kind of a new date night."
What also makes the location great is being a part of the Downtown community, Hellmich says.
"We encourage and want to be a part of that community and help people be in the area and have a good time with us," he says. "There's such a big presence in the Short North, and we're down on the south side, but there a really great community and nightlife [Downtown]. We want to be part of it and help spread the word."
Dueling Axes will be located at 309 S. Fourth St. For more information, visit theduelingaxes.com.