Gain Confidence By Trying Something New
With the days getting shorter and cold weather creeping in, it's easy to feel bored or stuck in a rut. It may be tempting to stay home and hunker down for the winter, but it's important to get out of the house and experience new things. So keep reading to learn a few reason on why you should expand your horizons and try something new and see how you can win $25 towards your efforts!
Make new friends, tighten bonds and have something new to discuss around the water cooler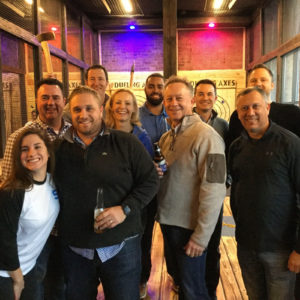 Branching out of your comfort zone can help you meet new people, or can strengthen the bonds you already have with friends and family. Trying new things will give you plenty to talk about while you're gathered at the dinner table, huddled around the water cooler, or getting your hair cut. Where ever it is you need to make some small talk. Want to do more than just talk turkey and ham? Gather up the family and share in an experience beyond the same old shopping. Finding new activities that can engage the whole family will help create memories that last a lifetime. Experiences can also make great holiday or birthday gifts – skip the knick-knacks or socks and take friends out to all try something new! Group outings will help you grow closer together, and help introduce you to others who share your interests.
Gain Confidence In Yourself
On a personal level, trying new things can help you learn a lot about yourself. Often, people are resistant to new experiences because they're afraid or intimidated – possibly of the activity itself, or just of doing something out of their routine. But going outside of your comfort zone can help you gain confidence as you overcome your fears and can help you tackle problems in the future with a new perspective. Keeping an open mind to fresh experiences can help shape your opinions or reveal new things about yourself that you didn't previously know.
Improve Overall Satisfaction with Life
Creating habits, routine, and structure in life is important to get through your day-to-day, but it's just as important to break the mold every so often! Getting out and experiencing new things can reinvigorate your spirit, and helps to break up the hum-drum patterns of daily life. It alleviates boredom, and can also help relieve stress. It even helps improve overall satisfaction with life – even small changes to routine can increase your zest for life, and experiencing more of what life has to offer can have major benefits to your personal life.
Looking to take the plunge with a new activity? Look no further! Dueling Axes offers the thrill of throwing axes at wooden targets in a safe, upscale, urban lounge setting. With comprehensive safety training, as well as detailed coaching on proper throwing technique, you can experience pulse-pounding excitement in a comfortable and warm environment. The fact that Dueling Axes is BYO-Food means you can customize your visit to fit your preferences. You can choose to bring your own meal with you or order free delivery from some of the best eateries in the city.  Whether you're a couple looking to spice up date night, or planning a party for 100 of your closest friends and family, Dueling Axes can accommodate nearly any size of group. So what are you waiting for? Book online or by calling the shop, and we'll be sure to save a lane for you!
Reserve Your Lane Now
Here's your chance to try something new, and win $25
We want you to have all the new experiences you can! Start by heading to our Instagram page and finding the GIVEAWAY post so you can enter to win $25 to City BBQ. Follow @duelingaxes on Instagram and Facebook, tag your axe-wielding friends and comment with why you deserve to win. Then book your axe throwing experience with us. Experience the exciting sport of axe throwing at Dueling Axes like you can't anywhere else – in a safe, comfortable, and modern setting located in the heart of Downtown Columbus. As one of the only axe throwing facilities in the country to give our guests a private throwing lane, we promise to never pair you and your friends with people you don't know. We're also outside-food friendly! Don't want to haul in your own food? Don't worry, you can order from any of the neighboring eateries and they'll deliver their full food menu, canned/bottled beer and full bottles of wine directly to your lane(s). All with FREE delivery. So grab a six-pack and some friends, a pizza and a date, or order in for your group's private event – axe throwing in Columbus is the MUST DO experience everyone is talking about.
Safety training & 1-on-1 coaching starts before your reservation time begins. That means you get a full 1 or 2 hours of uninterrupted throw time to play dozens of gameplay options. During your stay, our staff is available as much or as little as you'd like so your group can experience axe throwing the way you want.
Submissions to win will be accepted until Saturday, January 11 at 11:59pm. Enter Now!
Ready to book? Check our real-time availability calendar!
Check the calendar