The Urban Axe Throwing Interview
The small business atmosphere in Columbus, Ohio is booming! According to the Columbus Dispatch, Columbus has been known to be one of the top cities for new business growth. So, it sounds like Downtown Columbus is the perfect location for an urban axe throwing lounge, no?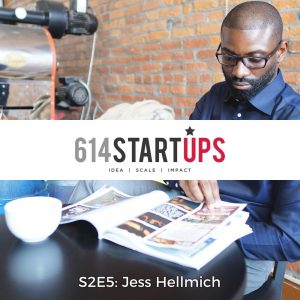 Owner, Jess Hellmich was interviewed by Elio Harmon of 614 Startup Podcast about the Idea, Scale, and Impact of the urban axe throwing lounge, Dueling Axes.  On S2E5, Elio asks how the idea of bringing an axe throwing facility to Downtown Columbus came about. Co- Owners Jess Hellmich and Paul Sherry may or may not have talked about it over drinks after a poker game. They were looking to bring a different activity, that many people have not tried, to Downtown Columbus. They saw an opportunity in the axe throwing industry and decided they wanted to be the best. The process was tough, and long. But once they landed a location on South 4th Street in Downtown Columbus, in the middle of a community of other great small businesses, everything started falling into place. With help from their construction backgrounds, Jess and Paul put every screw into the space that Dueling Axes calls home. After a year and a half from start to finish, the urban axe throwing lounge opened in July 2018. Since opening, Jess and Paul have figured out what works best for them, what works best for business, and have only heard positive reviews.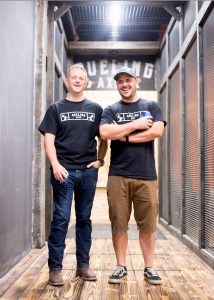 The axe throwing industry is new but growing at a rapid pace. It is not only perfect for date night but also great for corporate groups to take a break from the computer screen to focus on something different. Dueling Axes has hosted a plethora of private events including birthday parties, bachelor and bachelorette parties, and even fundraising events. Axe throwing is a safe, fun activity that suits any age, any fitness level, and a great way to relieve stress. Next time you are looking to plan a night out for family or friends, come check out Dueling Axes.
About 614 Startups:
At 614Startups, we believe that entrepreneurship has the potential to create a better world and that Columbus, Ohio will become the global capital for startup growth and innovation.
With this as our mantra, we are building a digital media company that provides a platform for entrepreneurs to tell their story and for startups to increase their brand awareness. Our goal is to become the leading source for startup news and interviews in Columbus. Contact us at info@614startups.com.

Make sure to check out the 614 Startup Podcast about Dueling Axes here.